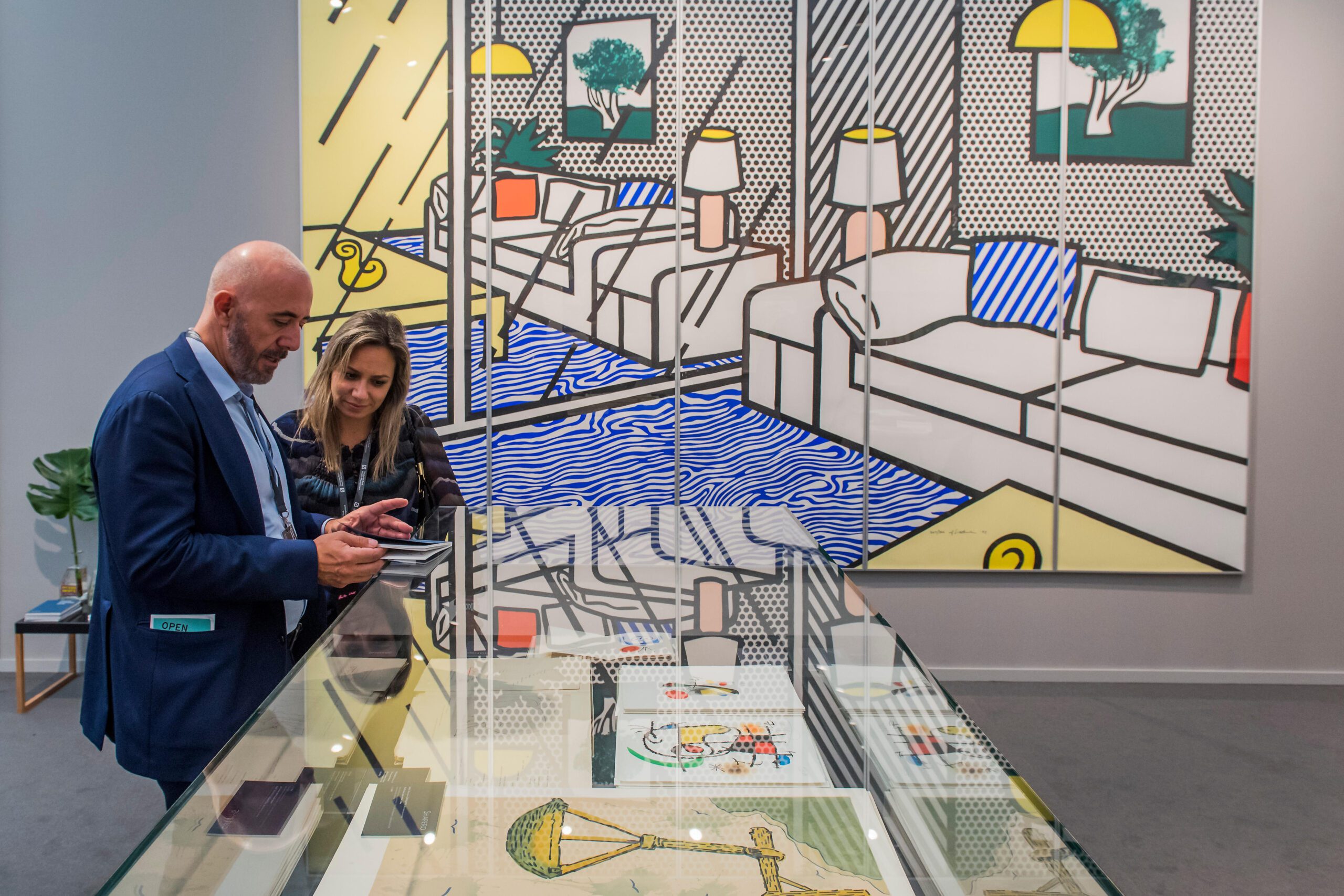 Seeking Value in Pop Art: Lichtenstein's Top-Billed Pieces
---
Pop artist Roy Lichtenstein proved that his pieces were made to withstand the test of time and retain their relatability in the present. Know who Lichtenstein is and how his works took the world by storm.
Pop Art started to make waves in the 1950s. Aesthetically, the said movement alludes to popular culture with an emphasis on commercialization. It renders pieces that scream vibrant colors and bespoke mundane elements which appeal to its viewer [Source: Tate]. At the height of American Pop Art's streak in the 1960s, one artist stood abreast of the 21st-century hype, "Roy Lichtenstein." His work? A series of comic strip-inspired art pieces.
The Artist
Lichtenstein (1923-1997) is among the world's renowned pioneer American pop artists from the same era as Andy Warhol. He earned his bachelor's and master's degrees in Fine Arts at the Ohio State University. His first solo exhibition was in 1951 in New York at Carlebach Gallery. However, it wasn't until 1961 that he first produced his trademark pop art paintings, which ignited his road toward prominence. Unlike other pop artists, Lichtenstein purveyed subversion in parodied manner. He crafted pieces that emphasize cartoonized elements and inherent narratives. His works spawned from the adoption of characters like Mickey Mouse to women figures that depict relatable experiences. Lichtenstein was the first American who was able to have an exhibit at Tate Gallery, a highly reputable institution in London that manages big major galleries. Due to his prowess, he was awarded Honorary Doctorates from many American and UK-based universities. Notably, Lichtenstein had also received the "Nation Medal of the Arts" at Washington D.C in 1995.
Top Works by Roy Lichtenstein
Masterpiece
Auctioned at a hefty price tag of $165 million, the "Masterpiece" was bought in 2017 by Steve Cohen, a hedge fund billionaire [source: CNBC]. Philanthropist Agnes Gund initially owned the piece and had put the artwork for sale to donate the revenue to the endeavor of criminal justice reform. After Cohen bought the Masterpiece, it became one of the 15 highest-paid auctioned artworks in the world. The classic 1962 work showcases Lichtenstein's usage of Ben-Day dots and his signature narrative or liners. It was part of his first exhibition in Los Angeles. The exhibition contains pieces where a guy named "Brad" was deemed a heroic entity in a cliché manner.
Nurse
The sale of this 1964 artwork at $95.4 million in 2015 has gained a controversial stance. An unknown bidder bought it through a phone call who was allegedly Christie's owner. Christie's is the auction house that had put the art piece on sale.  Despite the said speculation, one thing is for certain. The Nurse rendered a massive increase on its previous value of $1.7 million at Sotheby's sale in 1995. Its previous owner Barbara Lee was among the famous collectors who have owned the artwork. Collector Leon Kraushar, who has a Pop Art collection comprised of 200 works, also once owned the piece [Source: Art Market Monitor].
Woman with Flowered Hat
Abstraction belongs to the range of techniques that Lichtenstein utilized in his works. He produced a remarkable piece under the said style, the "Woman with Flowered Hat." Valued at $56.1 million, the 1963 artwork alludes to one of Pablo Picasso's works, the "Portrait of Dora Maar." The piece merges high and low art. Christie's facilitated the auction wherein the artwork was estimated to garner $30 million, which was exceeded as three bidders via telephone outbid each other. In the end, Laurence Graff, who is a billionaire jeweler, took home Lichtenstein's art piece [Source: Art News].
Nude with Joyous Painting
Created in 1994, this art piece was acquired by its current owner Francis Belin of Hongkong, for $46.2 million. The amount is comprised of buyer's fees atop the $40.5 million piece value. Christie's auctioned Lichtenstein's work in 2020 between bidders from New York and Hong Kong. Belin has successfully bought the painting by phone. Like the "Woman with Flowered Hat," the art piece was estimated to be bought for around $30 million and has ended up in higher value [Source: Art Market Monitor]. The inspiration for the woman featured in the painting is the DC Comics series' Girls Romance. It was about Gloria, who survived perilous waters with the help of lifeguard Bob. However, the painting used an interior background instead of the beach [Source: Christie's].
Sleeping Girl
Another piece inspired by the Girl's Romance, the Sleeping Girl, was painted by Lichtenstein in 1964. It was auctioned by Sotheby's and was bought for $44.8 million [Source: Art Market Monitor]. The piece was once Lichtenstein's highest valued auctioned work from May 2012 to May 2013. Beatrice and Philip Gersh were the owners who had put up the sale. The Gersh family served as founding members in the establishment of the Los Angeles Museum of Contemporary Art. Sleeping Girl belonged to Lichtenstein's series of portraits featuring women inspired by comic books.
I can see the whole room! … and there's nobody in it
This is a straightforward 1961 painting that shows a man peeking through a hole. The painting establishes an immediate rapport with the viewer, who's the subject of the man's gaze. At the same, it renders the irony of seeing no one when in fact, a viewer is standing in front of him or the artwork. In 2011, the "I could see the whole room! … and there's nobody in it" painting was bought in a Christie's auction for $43.2 million [Source: Art News].
Ohh…Alright …
Not so far behind the value of the previous painting, Ohh…Alright… was acquired at $42.6 million in one of Christie's auctions. The 1964 painting was sold in 2005. Its prior owners are Steve Martin and Steve Wynn. This art piece took inspiration yet again from a DC comic book. However, this isn't from Girl's Romance but Secret Hearts. Thus, it justifies Lichtenstein's showcasing of the latter book's crying red-head protagonist while holding the telephone [Source: Art News].
The Ring (Engagement)
Still in the bracket of $40 million, The Ring cost $41.7million. Stefan Edis tapped Sotheby's New York in 2015 to make the sale. Afterward, he and his wife donated $400 million worth of art pieces to the Art Institute of Chicago. Although "The Ring" didn't reach the estimated price of $50 million, it still showed a significant increase in value from its 1997 price of $2.2 million to its most recentpresent price tag[Source: Art Market Monitor].
The Kiss III
There are several versions of The Kiss that Lichtenstein painted. However, it's the Kiss III of 1962 that had made it to his most expensive pieces list. It was let go at $31.1 million by two Chicago collecting couples. Literal in nature, the painting shows the kissing moment of two cartoonizing protagonists. It was signed and dated, which proves its authenticity [Source: Art News].
Red and White Brushstrokes
An embodiment of its namesake, the painting was an abstraction of two-tone brushstrokes. This Lichtenstein piece was sold for $28.5 million by the auction house Sotheby in 2017. It was deemed as a parody of creating art that leans toward the aesthetic style of abstract expressionism. Such artwork was a unique addition to the pool of comic-book-like characters that he painted in most of his work [Source: Art News].
---
Colors really can do wonders on paintings, giving life to pop culture representations. , Lichtenstein's works were able to cater to the general public. It appeals to the curious mind but also feeds the imagination. See more of his artworks in museums or join an auction for the chance to acquire Lichtenstein's paintings.
---