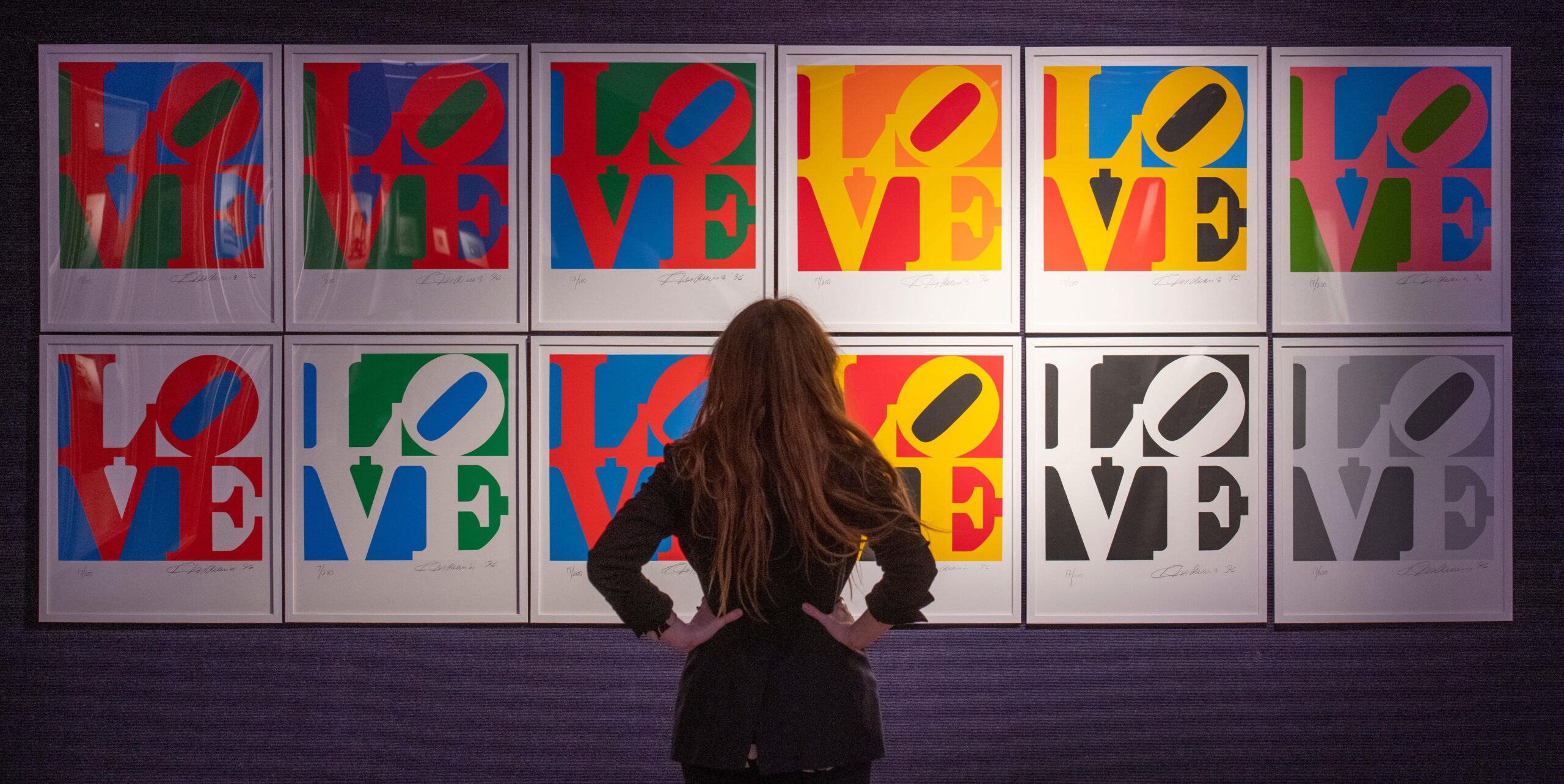 Who is Robert Indiana?
---
Robert Indiana was a contemporary artist who concentrated on creating socially and culturally significant pieces that revolved around real-world issues and experiences in his own life. He is described as an influential painter and sculptor with works that resonate with the Pop Art movement.
Known for his large-scale LOVE and Number series sculptures, Indiana inserted in-depth meanings and representations of his life and the American identity into his pieces. He found that he could incorporate single words and numbers in art, which represented specific emotions, locations, events, and milestones in his life.
| | |
| --- | --- |
| Born | September 13, 1928 |
| Died | May 19, 2018 |
| Nationality | American |
| Mediums | Sculpture, painting, print |
| Movements | Pop Art, Contemporary |
Robert Indiana Biography
Originally named Robert Clark, Robert Indiana was born in New Castle, Indiana in September 1928. He was adopted as a baby and moved frequently to various parts of Indiana throughout his childhood. Indiana's artistic abilities were first recognized by his first grade teacher, who encouraged him to pursue his fascination with art.
In 1942, Indiana attended the Arsenal Technical High School in Indianapolis, which helped him dive deeper into his passion for art, as the school had a wonderful art program. Once he graduated, he joined the U.S. Air Force for three years before studying at a number of art institutions, including the Skowhegan School of Sculpture and Painting in Maine, Edinburgh College of Art in Scotland, and the Art Institute of Chicago.
In 1954, Indiana moved to New York to further explore the art scene and became familiar with a local art community in Coenties Slip located in Manhattan, New York. Indiana's time in Coenties Slip greatly inspired him as an artist. His work was first displayed to the public in 1960 at the Martha Jackson Gallery in New York for the New Media–New Forms I exhibition.
The 1960s was Indiana's break-out decade as his work was showcased in numerous museums throughout New York. In 1978, Indiana started a new chapter in his life by separating himself from the New York art scene and moving into an old Victorian building on the island of Vinalhaven, Maine. He directed his attention to his personal experiences on the island within his work and continued to produce art from his home where he died in May 2018.
Robert Indiana's Artistic Style and Career
Robert Indiana was most known for his LOVE and Number series, which he incorporated into numerous paintings, prints, and large-scale sculptures. His Number series is symbolic of the life cycle and various milestones in one's life. He frequently used single words in his work as he interpreted language as worthy of being considered art.
Indiana's LOVE and Number pieces are amongst the most desired of his work and do very well at auctions. Many of his LOVE paintings and sculptures have sold for millions. One of his highest selling pieces was The Great American LOVE (Love Wall), which sold at Sotheby's for $3,555,000. His work has been displayed in some of the most well-respected art institutions in New York and several countries around the world, including Canada, England, Germany, and France.
Robert Indiana's Top Works
LOVE, 1966-99, polychrome aluminum
Indiana's famous LOVE sculpture is a part of an iconic series the artist began creating in the 1960s. The word first appeared in Indiana's work when he made a colored-pencil on paper drawing of the word with a slanted "o" as a Christmas card for a friend. Indiana began creating the LOVE sculpture in 1966 and it was fabricated in 1999.
The sculpture is 8 feet in length and width and stands at 4 feet tall. Viewers are able to see the bold red colors of the letters from the frontal view with blue painted within the spaces of each letter to create different perspectives as one walks around it.
ONE Through ZERO (The Ten Numbers), 1980-2001, Cor-Ten steel with base
ONE Through ZERO (The Ten Numbers) is a collection of large-scale number sculptures that were on display at Wilkeson Pointe park in Buffalo, New York. The sculptures of the numbers zero through nine come together to create one piece. Numbers are very symbolic in Indiana's work, with each number representing a major milestone between life and death. The number one represents birth and zero represents death.
Indiana has created several other number sculptures that have become a part of his Number series. ONE Through ZERO (The Ten Numbers) is made out of a special steel meant to brave the weather and all pieces are reddish-brown in color.
Decade: Autoportrait 1961, 1971, oil on canvas
Indiana's Decade: Autoportrait 1961 (1971) was one of a series in which he merged his American Dream series with the use of numbers that detailed moments in his life within a certain decade. The painting depicts several of Indiana's signature motifs, including stars, numbers, and words that overlap one another. Decade: Autoportrait 1961 was a very meaningful piece for Indiana as the '60s was the most meaningful decade of his life.
This piece is one of the more expensive pieces of the Decade: Autoportrait series as it sold for $1,290,500 at Sotheby's. The realized price was more than three times the estimated price of $350,000.
Robert Indiana Collections & Exhibits
Sculpture 1958-2018 at Yorkshire Sculpture Park
March 12, 2022 – January 8, 2023
Sculpture 1958-2018 is a retrospective exhibition of sculptures, prints, and paintings that Indiana created throughout his art career. Included in the exhibition are some of Indiana's most famous motif series, such as LOVE, Numbers, and EAT. The first piece that visitors witness is Indiana's LOVE (Red Blue Green) (1966-98) sculpture located at the entrance.
Beyond LOVE at Whitney Museum of American Art
September 26, 2013 – January 5, 2014
Beyond LOVE was a retrospective exhibition that encompassed Indiana's artwork that unraveled societal issues amongst humanity. The exhibit included some of his work within the American Dream series, such as The Beware – Danger American Dream #4 (1963) and The Demuth American Dream #5 (1963). Beyond LOVE also included his famous EAT/DIE (1962) and LOVE (1968) paintings.
A Sculpture Retrospective at Albright-Knox, Buffalo, New York
June 16 – September 23, 2018
Albright-Knox showcased A Sculpture Retrospective to honor some of Indiana's most private works that had rarely been seen in other public exhibitions. The exhibition included famous paintings, drawings, sculptures, and prints Indiana created throughout his career. Some of the works featured in the exhibition included Decade: Autoportrait 1961 (1972-77), The American Dream (1992), and THREE from ONE through ZERO (1978-2003).
---