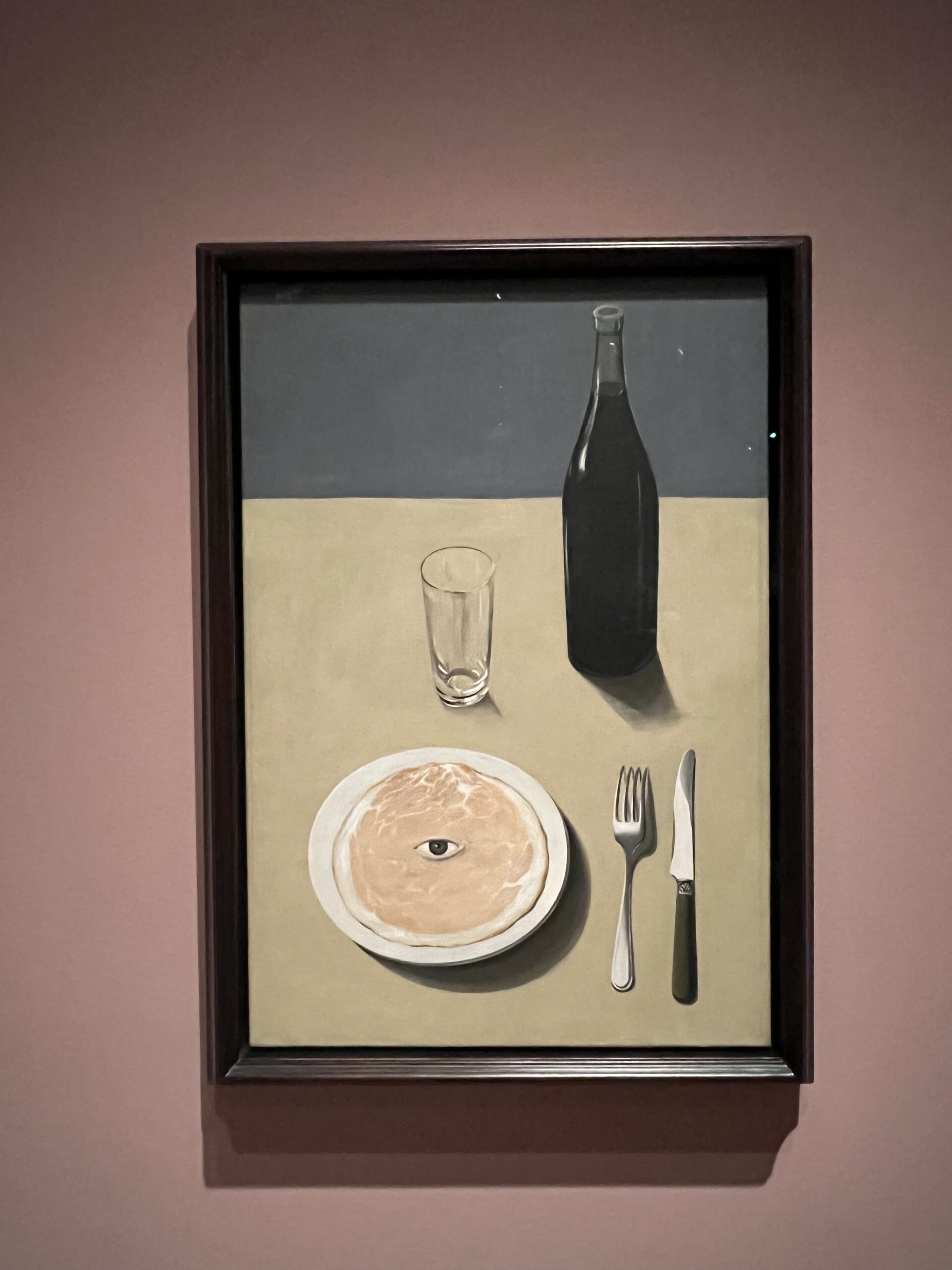 The Masterworks' Rene Magritte Buying Guide
---
There is no doubt that Rene Magritte is among the renowned artists who top the bill for surrealist art. Not only is he recognizable worldwide but it considered one of the pillars of the Surrealist Artists. This article will help you learn more about him, his works, and where to acquire and sell them.
About René Magritte
René François Ghislain Magritte has worked in varying styles such as impressionism and advertisement designs. He was also once a quasi-abstract painter who considered himself a figurative artist. However, it's in surrealism that he became widely known for. His aesthetic comprises the severance of things with the notions attached to their names. Magritte deconstructs literal objects into a myriad of meaningful representations.
The first solo exhibition of Belgian painter Magritte in Brussels' Galerie Le Centaure was his first stint as a surrealist in 1927. In the same year, he relocated to Paris. Since Magritte became closer to the "French surrealist group," his work improved, which paved the way to the next three years as the height of his career. He delineated though to the then prevalent surrealist style, a biomorphic abstraction. Magritte instead utilized "figurative style" that depicts usual things inquisitorial of the real world. Thus, it was deemed that Magritte's style is representational.
A common subject of his works is natural elements, furniture, edifices, and other symbolic figures. By 1929, Magritte had exhibited alongside big names in the art industry at Goemans Gallery in Paris. His works were on display with the art pieces of Picasso, Salvador Dali, Joan Miró, and Max Ernst.
Movements and Mediums
Magritte is both a classically trained and an experienced painter. He took drawing lessons and attended the Académie Royale des Beaux-Arts. At the onset of his career, he painted abstracts, and after several years, he went to Paris to immerse himself in the surrealist movement. Soon, Magritte created word paintings that rendered representation in-between texts and images. He used his talent to test perceptions and challenge people's minds.
Magritte also made his works channel his political standpoints. He was a member of the Belgian Communist Party in 1945. His iconic symbol for communism is the bowler hat. Back then, he made graphics and posters for his communist party. He also created short films and took photographs throughout World War II during the German occupation in Belgium. The subject of his then works was positioned as inspirational pieces.
Other visual arts that he was involved in were commercial and advertisement designs for cars and fashion. Magritte showcased a neat and flat finish in his designs. Said style was related on a similar aesthetic to world-renowned pop artist Andy Warhol who became prominent decades after Magritte used said style.
Collecting as an Investment
Among the René Magritte paintings, the "L'empire des lumières " was valued the highest. It was sold at Sotheby's auction for $79.8 million or £59.4 million earlier this month. Said painting was crafted in 1961 and featured a streetscape during night and day. It used to belong to the collection of French baroness Anne-Marie Crowet Gillon, the daughter of one of his patrons. In retrospect, Magritte's 1937 Le Principe du Plaisir was bought for $26.8 million in the same auction house. The painting was his formerly top auction record holder.
Other pieces that were sold for high prices are A la Rencontre du Plaisir, $24.6 million, and Le lieu common, $25.5 million. The new record holder or L'empire des lumières is part of a series of 12 paintings and was included in exhibits worldwide. It was showcased at the Magritte Museum for the longest time, which lasted for a decade.
Collection Examples
No 3. Triumphal Arch
After 28 years, this Magritte painting was auctioned and bought for $22.4 million in 2020. It was crafted in 1962 and highlighted intense greenery as it portrays a single tree in a leafy background. The painting was intended to capture the "essence" of the tree as a representation of happiness. It was deemed that Magritte could showcase visual similarity in this piece.
The Common Place
Another priced painting by Magritte is The Common Place, valued at $24.3 million during an auction facilitated by Christie's. It features a man wearing a bowler hat. Said hat was Magritte's signature element back then. The painting renders ambiguity between men's front and side views in suits. Yet, it intrigues its viewers on whether these two views are from the same man or not. The painting also presents backgrounds from the stone-like wall cladding to the forest. Thus, it was also related to the notion of being in a place with "mysterious possibilities" .
No.1 The Pleasure Principle
The painting, valued at $26.8 million, features millionaire heir Edward James, a significant Surrealist patron. Magritte was commissioned back then by James to produce an art piece. James sent photos of him to Magritte as a basis. However, unlike the photographs, the painting doesn't include James' face. It is an upfront surrealist aesthetic that renders Magritte's penchant for the presentation of hidden faces alongside his interest in visual reality's hidden aspects.
A Magritte Certificate of Authenticity
Having a Certificate of Authenticity for your Magritte painting or COA is an essential must-have if you want to sell your art piece reasonably. The Art Experts offers COA to owners of a Magritte as early as 2002. Anyone can follow their COA process with ease. First, you need to send them your photos of the piece and provide details such as its dimension and a description or history of your Magritte. If you are not too sure or not well-rounded about the piece you own, the Art Experts can also appraise, provide advice, render full brokerage and private treaty sales.
In-depth research and analysis support each COA. According to the Art Experts, Magritte authenticated artworks are recognized worldwide. They perform scientific tests, including applying forensic studies methods to ensure authenticity. Clients who have tapped the Art Experts for their COA needs came from varied industries and professions.
If your art piece successfully passes the authentication tests, you can expect to receive your COA in two weeks. However, the waiting time may take longer for complex cases where the Art Experts had to conduct intensive research further to ensure authenticity.
Where to Buy René Magritte?
Magritte's pieces experienced a steady increase in value for over three decades. His art pieces are usually sold at auction houses. Christie's and Sotheby's New York are two of the leading auctioneers you can tap for a Magritte art piece. In the past, Christie's sold a lot of Magritte's works, many of which are part of Harry Torczyner's collection comprised of 25 art pieces. The high valued pieces that Christie's was able to sell were La Corde Sensible at £14.4 million, L'empire des Lumières which was $12.6 million , and Les Valeurs Personnelles for $7.1 million. On the side, Sotheby's later sold the L'empire des Lumières for a much higher price. It was successfully auctioned for $79.8 million, setting Margritte's highest valued art piece to date.
The art pieces made by Magritte, which contains the bowler art, moon, and his other trademark elements, were highly sought after. They are usually crafted from 1950 to the 1960s. There are times that prominent museums like the Museum of Modern Art or MoMA hold exhibits where you can see Magritte's pieces. For example, in 2014, MoMA held "Magritte: The Mystery of the Ordinary, 1926-1938," where his early experimental works were showcased.
---