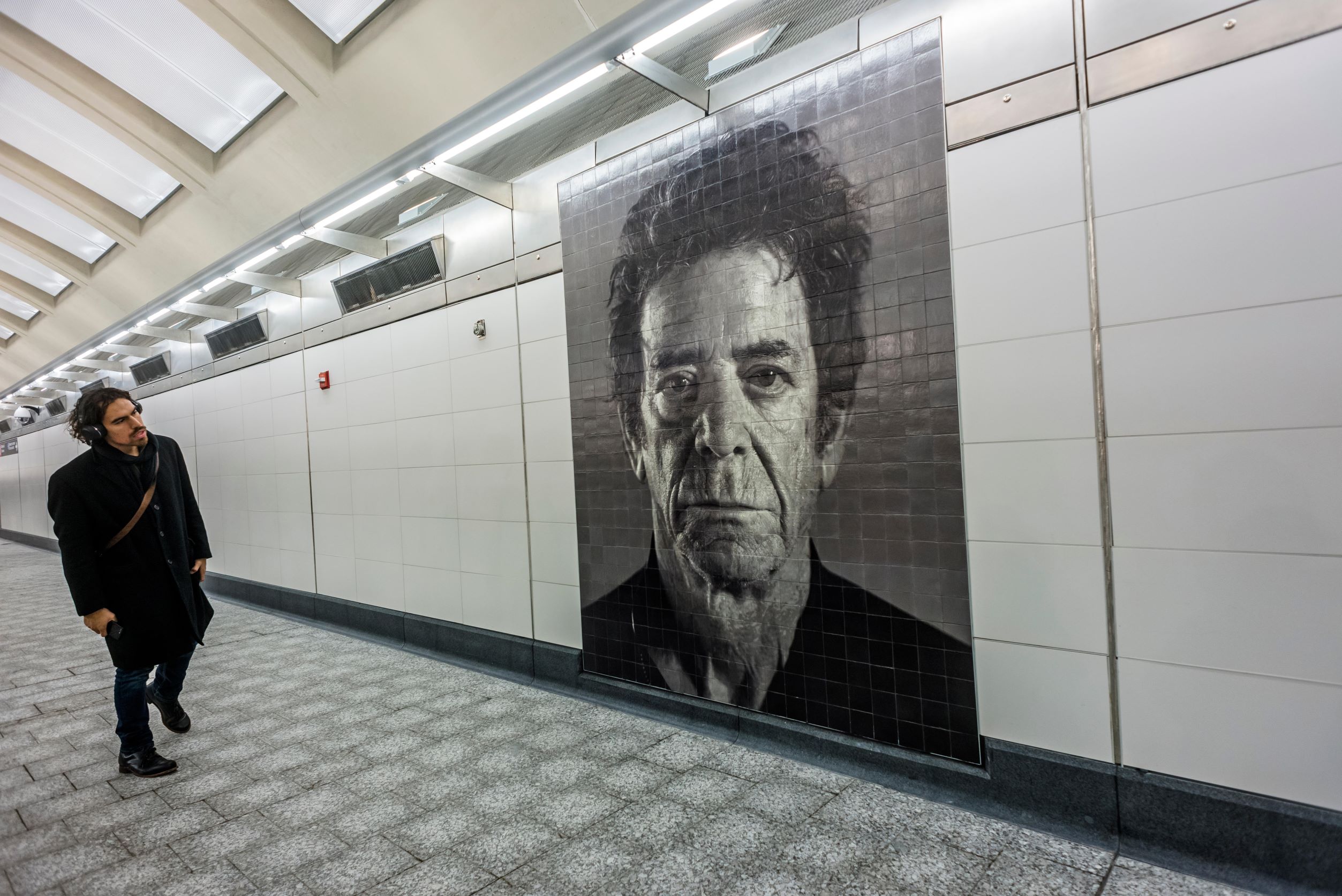 Who is Chuck Close?
---
Chuck Close is a contemporary American painter. He was born in 1940 and died in 2021. Close attended Everett Community College from 1958 to 1960. Although he struggled with dyslexia, he went on to achieve high degrees from some of the most esteemed institutions in the world. After that, he went to the University of Washington in Seattle. In 1961, his junior year, he received a scholarship to Yale Summer School of Music and Art, later attending graduate school there and receiving his MFA in 1964. Subsequently, Close studied on a Fulbright grant at the Academy of Fine Arts Vienna (Akademie der Bildenden Künste). He later taught as an art teacher at the University of Massachusetts at Amherst.
Chuck Close's Artistic Style
Close's style emphasized portraiture in different formats. He explored portraiture, and eventually distinguished himself with this style. His prosopagnosia (face blindness) could characterize why he emphasized such detailed portraiture in large-scale. After he faced a debilitating accident, he embraced a large-scale style that used a grid structure which used individual unique compositions that created a larger work.
His extra large-scale paintings imitated the CMYK style that photo printing uses. This was a new technique for the time, and Close's work pioneered the use of this printing style in the fine arts.
The large-scale nature of his photographs is impressive. They are photorealistic. Most of them are in full color, but some of them are in black and white. Some of his works explore photo distortion effects. They reflect the larger-than-life nature of many of his subjects, who are often famous artists themselves. His work has experienced international coverage and exhibition in museums worldwide.
In 1988, Chuck Close suffered from a spinal artery collapse, which left him paralyzed from the neck down.
Despite this, he continued to produce artworks, using a brush strapped to his hand. His paintings have been valued at seven figures and have sold for millions of dollars at auction.
Chuck Close Major Works Analysis
John (1971–1972)
In 2005 at Sotheby's, New York, John netted $4.8 million. John is an acrylic on gessoed canvas. This is part of his earlier body of work. The style of this painting is described as photorealistic.
During the process of painting, he referred continuously to photographs. This style of painting exemplifies his signature style, up-close portrait heads. It is the last in the series that distinguished him as a painter and helped establish himself as a leader in his field. The rest of this series was in black and white, and it showed his return to color portraiture.
Phil (1983)
This oil on canvas depicts Chuck Close's longtime friend Philip Glass. Philip Glass is a renowned composer and distinguished artist in his own right. This painting is part of the collection at Whitney Museum of American Art, New York. It netted $3.2 million at Sotheby's New York, 2006
A Couple of Ways of Doing Something (2006)
This is a collection of 20 photographs by Chuck Close. The book is also accompanied by 20 poems by Bob Holman. Chuck's photographic process began in 1999. He used the daguerreotype process. Jerry Spagnoli worked alongside him in his studio in New York City.
He photographed Lyle Ashton-Harris, Laurie Anderson, Cecily Brown, Carroll Dunham, Gregory Crewdson, Ellen Gallagher, Bob Holman, Philip Glass, Elizabeth Peyton, Elizabeth Murray, Andres Serrano, James Siena, Cindy Sherman, Kiki Smith, Lorna Simpson, James Turrell, Terry Winters, Robert Wilson, and Lisa Yuskavage.
Cindy II (1988)
This painting of Cindy Sherman features a more abstract spiral style. The subject is in a side profile and it is an oil on canvas that measures 100 1/8 x 84 1/8 inches. At the auction at Christie's New York in 2003, it was valued at $1.46 million dollars. It shows Close's unique grid style of painting that has photos within each segment.
Jasper (1997-1998)
Jasper is another example of the photorealism style that made up most of Close's body of work for his entire life. It is a portrait of his friend Jasper Johns, who was an artist. It is a full-scale color painting. The individual cells are almost reminiscent of gemstones or rocks. The oil on canvas is part of the National Gallery of Art. In the grid in Jasper, each unit is made of concentric rings with multiple colors. None of these two units are alike. Each diamond up close looks like a small abstract painting in itself. However, when you scale back, you can see the depiction of the man's face.
---