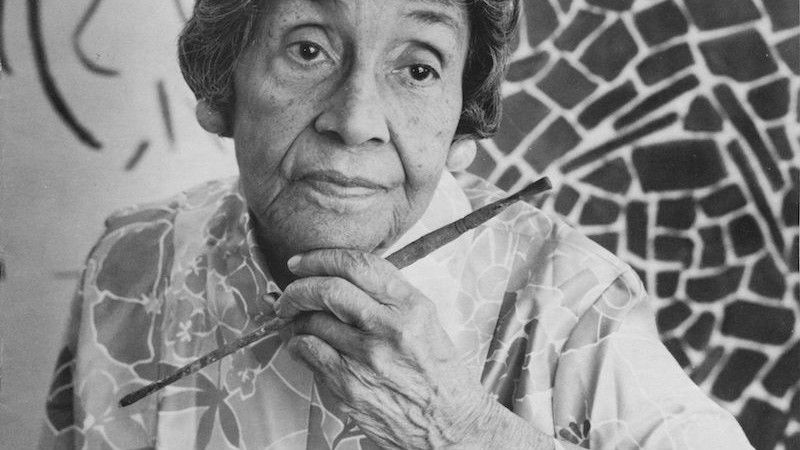 Black History Month Artist Spotlight: Alma Thomas
---
---
Who is Alma Thomas?
Alma Thomas was a female African American artist known best for her "exuberant" abstract color paintings. Through most of her career, Thomas exemplified her long study of color theory through her artworks and her role as an arts educator. Thomas' role in art history now stands as an inspiration to many by being able to achieve great success as a black woman artist despite the segregation and prejudice of her time. Along with this great success, Alma had many other accomplishments like being the first graduate of Howard University's Art Department where she continued to have a close relation to through the duration of her life. Since her death, her art and reputation has grown to be featured in major museums such as the Whitney Museum of American Art and the Smithsonian American Art Museum and art galleries – being recognized as one of the most influential female artists of the expressionist and Washington color school.
How Alma Found Her Signature Strokes
Born Alma Woodsey Thomas on September 22, 1891 in Columbus Georgia, Thomas was the eldest of four daughters. She was known to be a creative child although her real career didn't occur much later in life, it is still important to note that her creativity and artistic intent was present, despite the racial violence her family and others endured in southern Georgia. In 1907 the family moved to the neighborhood of Washington D.C., Logan Circle. Here offered more opportunities to the family and ability for Alma to continue her education past the grade school level. It was at Armstrong Technical High School where Thomas took her first art classes and "laid the foundation for her life".
She originally followed the path of most of the women in her family as an educator after graduating from Miner Normal School (now known as University of the District of Columbia). Although her career in arts education didn't begin until later in teaching career, after obtaining her BFA in 1924 from Howard University as the first African American woman to graduate from the program, Thomas began teaching at Shaw Junior High School where her role in arts education really took full force. She was able to set up the first art gallery ever in D.C.  public schools in 1938. She continued teaching for more than three decades, this period was described as her "fermenting period".
In the interim period of launching her own career as an artist and her teaching role Alma had a number of achievements to boast such as founding the organization, School Arts League Project, to bring art opportunities to children. Also, assisting in founding and later serving as the Vice President of the Barnett-Aden Gallery, the first successful Black owned private gallery in the United States. It was also during this period where she furthered her education by achieving a Masters in Art education from Columbia University in New York  and expanding her artistic training at American University under the tutelage of Jacob Kainen. It is important to note that during this period, Thomas' work was primarily figurative and through her lessons at American, her style evolved to the abstract art and emotive colorful paintings she is recognized today for.
Alma's Artistic Career
Though beginning her artist career well into her 60's Thomas was already well versed in the art world, especially in D.C. Much of  Thomas's work was heavily influenced and inspired  by the works of New York school and abstract expressionism that gained popularity through the 20th century. Obvious influence was those of her abstract paintings that focused on color theory, believing that through her use of color she would be able to translate the emotions she encapsulated while painting them. Her work was done primarily in acrylic on canvas and would be very large to capture the attention of the viewer.
Alma Thomas had her first retrospective held in 1966 at the Gallery of Art at Howard University. This collection of Thomas's works included the painting Resurrection, which is now held in the White House private art collection.
With her first collection of works heavily influenced by that of nature and color, in 1969 Alma looked to space for inspiration like many others. The series Space, Snoopy, and Earth was her new concept by applying techniques taken from pointillism to convey contrast of colors, almost painting in a mosaic fashion. A popular work from this series is Snoopy Sees Earth Wrapped in Sunset located in the Smithsonian Museum of American Art permanent collection.
In 1972, Alma Thomas was the first African American woman to have a solo exhibition at the Whitney museum of American Art. This alone propelled Thomas's reputation in the fine arts community where she gained the respect of art critics and fellow artists, such as Kenneth Noland. Today, some 44 years after her death we have seen a resurgence in the appreciation of Thomas's work. She is also now being recognized as one of the greatest female American artists. In most recent news, with a partnership between the city of Washington D.C. and the Phillips Collection announced that September 22 would be declared Alma Thomas day in D.C. and celebrated with a solo show titled Alma w. Thomas: Everything is Beautiful. A celebration of the artist's role in the cultural heritage of the city and the progress her art achieved in civil rights.
What are Alma Thomas's most famous paintings?
At the moment Thomas's most famous paintings were those that were from her late career. She has a number of watercolor works that are popular but we will be focusing more on her acrylic and oil paintings that had done a significant fair at auction.
A Fantastic Sunset ( 1970 )
This excellent example of Thomas's signature colorful mosaic abstractions. The painting had gone up for sale at Christie's Post war and contemporary art sale in November of 2019 for $2.6 million, well within the estimate.
Snoopy Gets A Glance at Mars (1969)
This artwork is one of the features of the space snoopy and earth series from 1969 and also showcases a bright array of floating color fields. This painting went up for sale recently in November of 2021 at Sotheby's contemporary day auction, fetching $2.3 million, blowing the high end of the estimate of a million out of the water.
Azaleas (1968)
This painting is a feature of Thomas's earlier works, highlighting the beauty of natural scenes through her exuberant color choices. This work too was featured in Sotheby's day sale in May of 2019 where it fetched over the estimate again at $740,000.
---
---