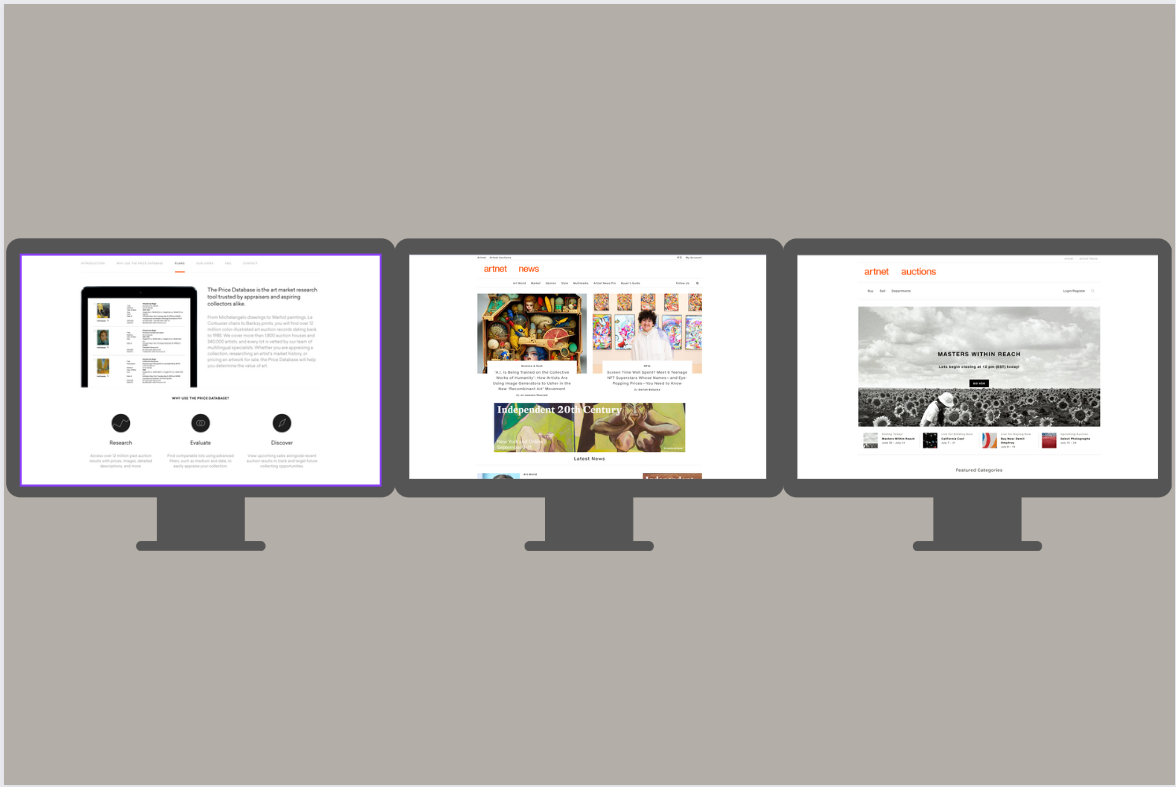 What Are Some Alternatives To Artnet?
---
When it comes to an informative discussion about the art world, it may seem that there are few places to turn. Artnet is a popular choice for information regarding art news, data on the art market, and a functioning marketplace to purchase the next addition to your collection.
However, Artnet is not the only outlet to discover these different facets of the art market. We broke down some alternative sources for Artnet based on these different functions. Read on below.
Art Price Databases
As a database, Artnet features a collection of over 12 million past auction results with records dating back to 1985. The database is behind a paywall, where Artnet offers several subscription options depending on the number of searches you are looking to do.
Here are some alternatives to Artnet's art market database service.
Masterworks
At Masterworks, we offer an extensive price index database for independent research that is free and available for anyone to access. The Masterworks Price Database is comprised of over 3 million data points featuring over 300,000 artists.
The database showcases repeat sales and price appreciation of Modern and Contemporary art from auction records tracing back to the 1960s.
Artsy
Artsy, a popular fine art marketplace, also boasts its own price database. Artsy's database is comprised of auction records from 300,000 artists and counting. The data results return the auction results from the last 36 months, and it is completely free to use.
Artprice
The Artprice database is comprised of 30 million auction prices and indices, with detailed results for over 635,000 artists. Coverage of this data goes back to 1983 and also contains an archive of over 210,000 fine art auctions. Some additional resources included in the subscription are artists' reports, art market key figures, and trends by country.
News Publications
Along with its price database, Artnet has its own publication: Artnet news. The platform offers a free and pro version, where the pro options include intelligence reports from their art market analysts, exclusive news and data reports, and opinion columns.
Masterworks Insights
Masterworks has a dedicated Insights page (you're on it right now), which features articles on a variety of topics across both art and finance. This feature on the Masterworks platform is entirely free for those interested in articles that pertain to art news, art investing, and exploring art as an asset class.
Artnews
Artnews is one of the oldest art publications still available today. Artnews is a wildly circulated art magazine, and aside from their quarterly editions, they offer news dispatch, investigative reports, art exhibition reviews, and profiles of artists and collectors.
The Art Newspaper
The Art Newspaper is another alternative for art news content. The Art Newspaper offers both an online and print publication that covers the international art world. In addition to the art newspaper's 100-page monthly edition, it has a daily online news service that discusses news stories, reviews, and commentary.
Art Marketplaces
Artnet is also known for its online auctions and marketplace. All purchasing is done through bidding directly on their site through registration on the Artnet auction page. These are 24/7 online auctions and immediate purchases of Modern and Contemporary paintings, prints, photographs, and more. However, they are not the only source that offers these same options.
Artsy
Artsy offers a similar platform to Artnet by hosting online auctions in addition to an online gallery. Those interested in using Artsy have the option to outright purchase through the online gallery or bid in one of their many auctions.
Auction Houses
Another alternative would be to purchase art through a traditional auction house like Phillips or Sotheby's. Many of the notable auction houses also host online auctions to provide more accessibility. Traditional auction houses will also have a wider array of art available for purchase depending on the sale.
Masterworks
Masterworks offers an alternative to a traditional art marketplace. The fintech platform provides those interested the opportunity to purchase shares representing an investment in Modern and Contemporary blue-chip paintings. This provides an alternative way for people to access art as an investment, and to own parts of iconic works by artists they love. Learn more about if investing with Masterworks is right for you.
---
See important Regulation A disclosures at masterworks.io/cd
---