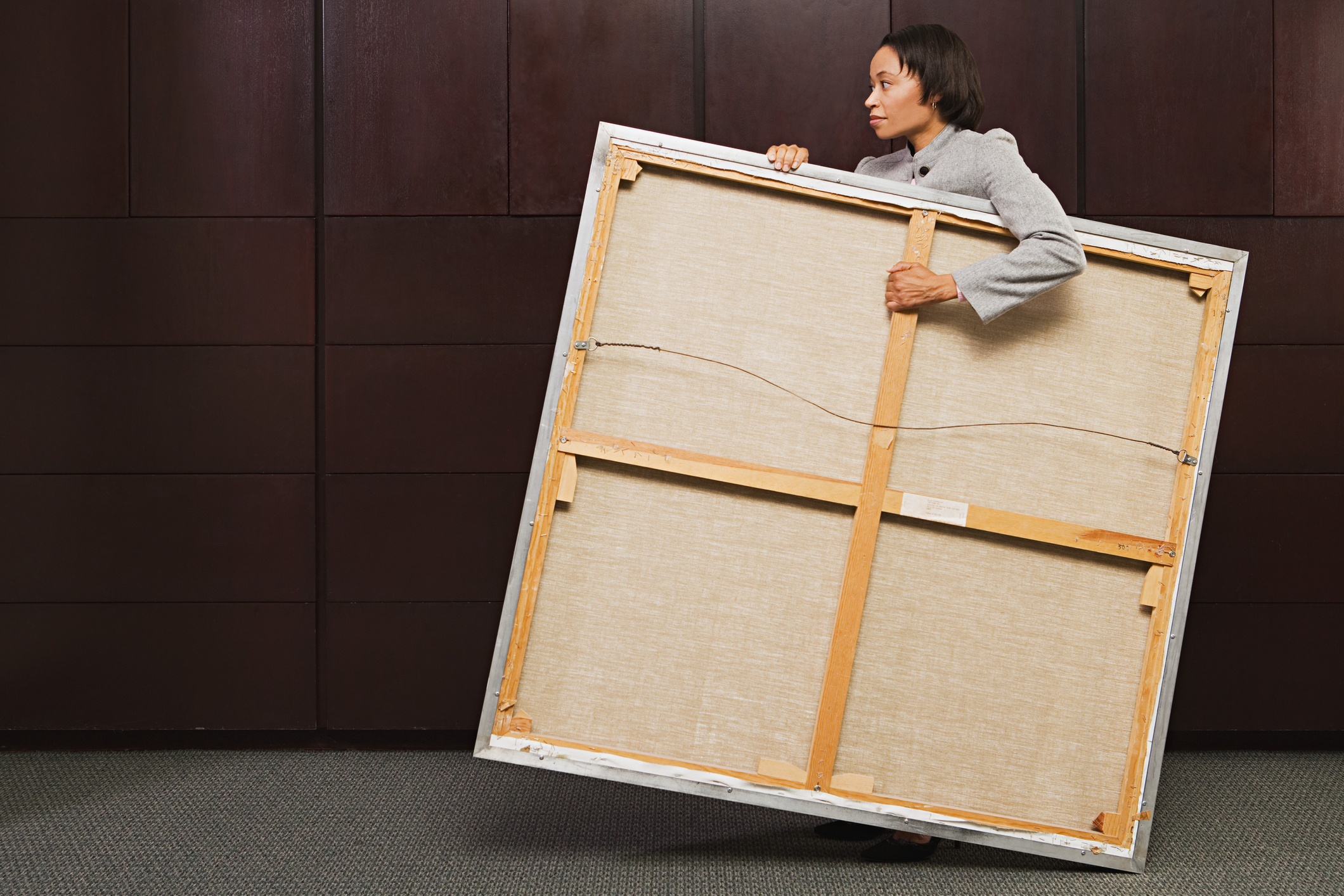 How to Sell Inherited Paintings: Best Options and Tips
---
Deciding what to do with your inherited artwork can be both exciting and stressful.
If you decide not to keep them, what's the easiest way to sell your inherited paintings?
Typically, an heir has two main options: selling the inherited artwork outright, or consigning it to a gallery or auction house.
But before you decide which is the best option, you'll have to verify the provenance of the paintings and have them appraised by an expert.
Let's discover how to sell inherited paintings and whether selling outright or consigning is a better option for you.
And, if you're keen to invest in art, we'll show you how to invest in shares of art via Masterworks.
How to Sell Inherited Paintings
If you're looking to sell your inherited paintings, you should follow these steps:
1. Do Thorough Research About the Artwork
If your inheritance includes multiple paintings, take a thorough inventory of the art collection and research each piece.
You'll need to determine and assess:
The artist's name
The title of the work
Dimensions
Medium(s) (e.g., oil painting, watercolor, acrylic on canvas, etc.)
Condition (look for cracks, tears, stains or other damage)
Subject matter (whether it is abstract, a portrait, a landscape)
Year of creation
Whether the work was ever exhibited and where
When and where was each artwork purchased
Whether it falls under cultural property (this may affect the sale)
Provenance (ownership history) details
Documents to prove its authenticity (including certificate of authenticity, invoices, literature references, previous appraisal details, etc.)
All these will ultimately determine the value of your painting. For instance, the more renowned the artist, it's likely the artwork will be worth more money.
If you haven't yet, it's also a good idea to take photos of each piece and catalog them.
If you aren't an experienced art collector, chances are you'll need the help of an appraiser or an auction house specialist to check all the documents. They can also examine the artworks through scientific techniques if needed.
2. Get Your Paintings Valued
After you've done your own initial research and compiled all documentation you have, you'll need to determine fair market value for your inherited paintings.
You'll need to get this valuation done by a professional with a good knowledge of the art market.
They will be able to give you an accurate estimate of each painting's market value.
Besides, artwork is considered tangible personal property, so this valuation will help you with tax planning or if you want to split up your art collection equitably among family members.
You could approach a reputable art gallery or auction house for an appraisal and advice. They usually employ qualified art experts specializing in various subject matter and genres.
Or entrust an art appraiser affiliated with a professional organization of appraisers, such as the Appraisers Association of America or the American Society of Appraisers.
The expert(s) should examine each painting in detail and do thorough art market research to help with the valuation of the artwork, whether it's a retail market value or an auction estimate. They should be able to support any art valuation they provide.
3. After Art Valuation: What to Do With Low-Value Paintings
Once you've determined the fair market value, here are a few options you could consider:
Sell it through an online marketplace or to a local collectibles store.
Hang it in your home or office.
Keep it in your storage.
Donate it to a charity store, friend or family member.
Now, what if your inheritance includes higher-value pieces?
4. Consigning High Value Paintings to an Art Gallery, Auction House, or Art Dealer
Let's see how to go about these options.
A. Consigning to an Art Gallery
Look for galleries that specialize in similar genres, artists, regions, subject matter or periods as your painting.
These galleries should be able to offer expert advice based on the genre and type of painting. They're also more likely to have potential buyers looking for pieces like the one you're selling.
Then give the gallery a call and arrange a visit. Discuss your research on the painting and artist, and your preferred selling price.
Remember: If you consign your inherited artworks to a gallery, you'll have to pay a commission once they are sold. The gallery may also charge a monthly fee for displaying your artwork.
B. Consigning to an Auction House   
This option involves handing over your paintings to the auction house and getting an estimated selling price.
The advantage of this option is that auction houses can market your piece to many potential buyers through online or in-person auctions.
Keep in mind: Upon a closed sale, you'll have to pay a percentage of the selling price to the auction house, usually referred to as a Buyer's Premium (typically in the range of 30-40%.)
C. Consignment to an Art Dealer
You need to find a fine art dealer that specializes in the type of art you're selling. You can sell them the piece directly or give it to them on consignment.
Fine art dealers tend to have extensive knowledge and connections in the art world. These established relationships may yield an increased pool of prospective buyers.
But remember: When you sell, you'll have to pay the dealer a fee or a percentage of the sale price. (The exact terms and fees should be agreed upon and documented in a formal contract.)
5. Selling High Value Paintings Outright
The advantage of selling your painting outright to a gallery, auction house, or fine art dealer is that you won't have to pay a hefty commission or fees to an auction house or gallery.
The disadvantage is that you may not have access to an extensive network of prospective buyers — like auction houses and galleries do. So your piece may take longer to sell or it may sell for less.
Typically it also requires more effort on your part to market the art work.
Now, if you want to reinvest the money, or explore an alternative asset investment, check out Masterworks. This platform lets you invest in fractional shares of iconic blue-chip artworks. 
Here's how:
Through Masterworks, you can easily invest in multimillion-dollar blue-chip artists like Banksy, Monet, Picasso and more. 
And you don't have to be a seasoned art collector. With prices starting at $20 per share, investing in such art assets has never been more accessible.
Here's a quick summary of how the platform works:
Masterworks researches artist markets with the potential to increase in value.
The acquisitions team identifies a piece they believe could appreciate in value and purchases the asset.
Masterworks only purchases around 5% of the art assets they're offered.
They then file an offering with the Securities and Exchange Commission (SEC) to securitize the artwork.
Once you've invested in an artwork, all you need to do is wait. Masterworks can hold the painting for 3–10 years. If the piece is sold at a profit, you'll receive pro rata returns after fees are subtracted (1.5% annual management fees plus 20% of the profit from the sale of the artwork).
Alternatively, you could choose to sell your shares on the secondary market.
Simply complete the Masterworks membership application to start investing.
See important Reg A disclosures: Masterworks.com/cd
---