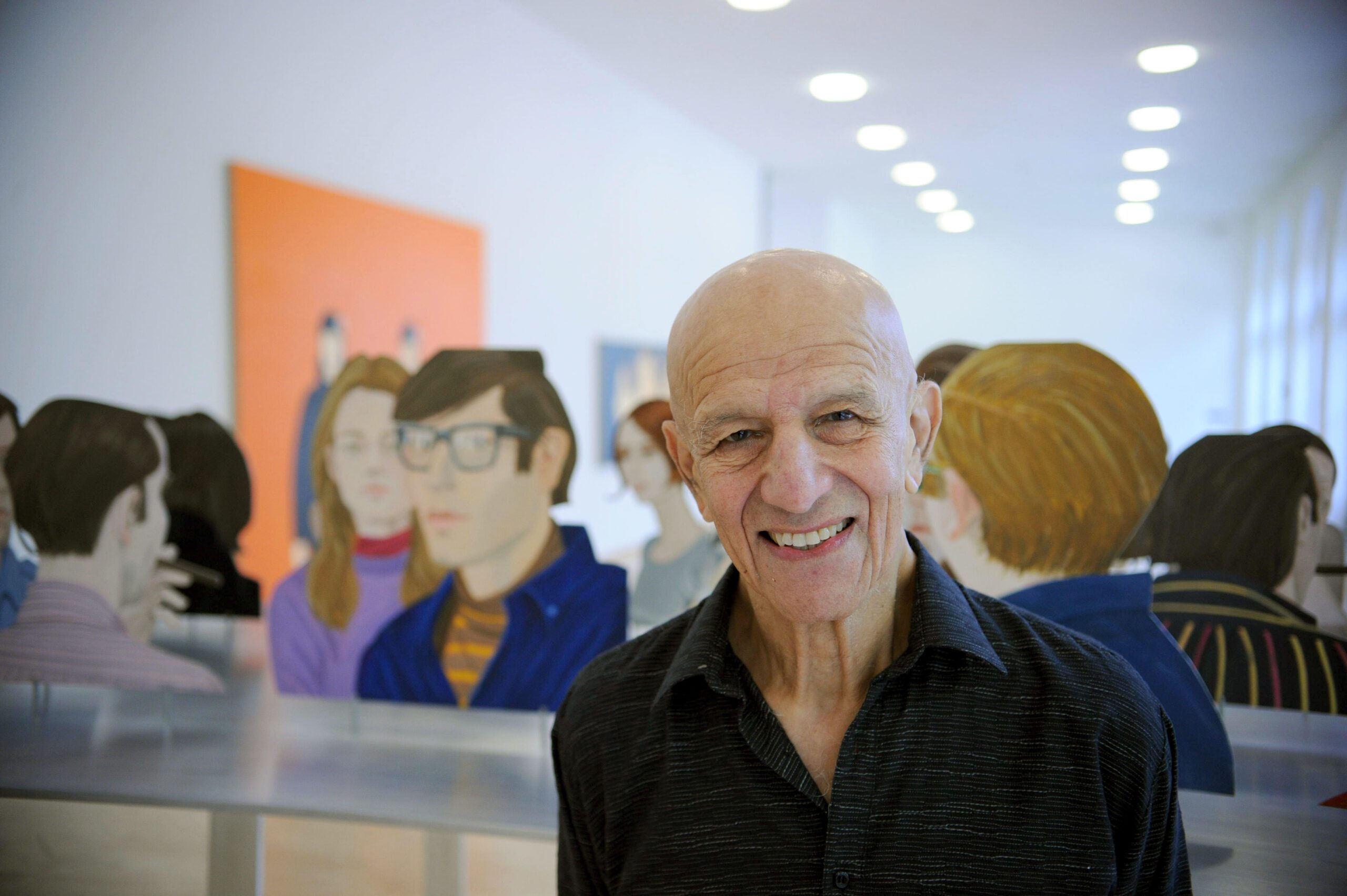 Who is Alex Katz?
---
Alex Katz is a contemporary painter who uses his surroundings as a way to tap into his consciousness to create flat paintings, cut-outs, and prints. Katz's style stems from the influences of his early studies in modern art theories and his pivotal interest in plein air techniques. Despite breaking out into the art scene in the 1960s, Katz is often underappreciated and has only recently experienced extreme success in the sales of his work.
Katz's work has been showcased in some of the most renowned art institutions all over the world, including in Germany, Spain, France, England, and the U.S. His work has been showcased in over 250 solo exhibitions and more than 400 group exhibitions. Most of Katz's work sells for thousands of dollars, with his most desired works selling for millions, such as his Blue Umbrella I (1972) which sold for $4.3 million at Phillips auction.
| | |
| --- | --- |
| Born | July 24, 1927 |
| Nationality | American |
| Mediums | Painting, print, cut-out |
| Movements | Abstract Expressionism, Pop Art |
Alex Katz Biography
Alex Katz was born in July 1927 in Brooklyn, New York, but grew up in the Queens suburb of New York City with his Russian parents. His parents introduced him to the arts at a young age. Katz attended Woodrow Wilson High School, which offered an excellent art program that furthered his artistic abilities.
Katz attended The Cooper Union Art School located in Manhattan, New York from 1946 to 1949. While attending Cooper Union, Katz studied the theories and techniques of modern art. He began studying plein air painting techniques while attending the Skowhegan School for Painting and Sculpture in Maine during the summers of 1949 and 1950 on scholarship. His concentration on plein air greatly impacted his perspective on environmental painting and has been a strong presence in his landscape works.
In 1954, Katz had his first solo exhibition at the Roko Gallery and became more involved in the art world by befriending other artists, including Fairfield Porter. Katz began to experiment with realism by painting portraits of people, most notably his wife Ada who is featured in many of his works. Katz started expanding his art techniques to new mediums, including prints, colored-paper collages, and wood and aluminum cut-outs in the 1960s and '70s.
Alex Katz's Artistic Style and Career
Katz grew up in the midst of the Abstract Expressionist movement, which influenced his use of perception and reflection combined with bold brushstrokes and colors used in pop art. While spending summers in Maine, Katz became inspired by the outdoor scenery that greatly differed from the cityscapes of New York. Some of his earlier works were inspired by social and cultural aspects that stemmed from television, films, and advertisements fueled by the Pop Art movement.
One of Katz's most recognizable styles is his realism paintings of cropped subjects. His realism paintings don't focus on minute details, but rather fundamental color contrasts and the positions in which the subjects are placed. Some of Katz's highest-selling paintings are those of his wife and muse Ada.
Katz's work has been admired by art lovers around the world, with his work displayed in more than 100 art institutions. He has received a number of accolades for his work, including the 1972 John Simon Guggenheim Memorial Fellowship in Painting and his induction into the American Academy and Institute of Arts and Letters in 1988.
Alex Katz's Top Works
The Red Smile, 1963, oil on canvas
The Red Smile (1963) is a part of Katz's collection of paintings of his wife. This piece depicts Ada smiling, unlike other portraits of her that are typically mysterious and melancholic. The cropped side portrait is displayed with a vibrant red background that contrasts with the blue headband Ada is wearing.
This work defines Alex Katz's techniques of using bright contrasting colors and flat painting that simplifies complex features. The Red Smile was purchased by the Whitney Museum of American Art and has been displayed in two of the museum's exhibitions, including America Is Hard to See and Highlights from the Permanent Collection: From Pollock to Today.
Ada and Louise, 1987, oil on canvas
Katz's Ada and Louise (1987) piece reflects his artistic style of contemporary flat paintings of subjects. Within the painting is a woman with black and gray hair sitting on a long bench facing another subject wearing a white hat with a blue sky background and linear clouds. The painting depicts a still moment in time between his wife Ada and the other subject, Louise.
This piece was one of Katz's most desired paintings as it sold at Christie's auction in March 2019 for $947,250. The realized price was almost $400,000 over the price it was estimated to be sold.
Blue Umbrella I, 1972, oil on canvas
Blue Umbrella I (1972) is one of Katz's most iconic, best-selling paintings. The piece sold at Phillips auction for approximately $4,386,000 in 2019. This piece is the first of the Blue Umbrella series that Katz has created.
The painting depicts Ada bundled up in a black winter coat and red headscarf that contrasts with the blue umbrella sheltering her from the rain. Like many other Katz paintings, this scene displays a single moment in time as the delicate raindrops are frozen on the canvas with a cropped subject over a muted background.
Alex Katz Collections & Exhibits
Alex Katz, This Is Now
Mar 31th – Jun 11th, 2022
Alex Katz, This Is Now is a retrospective exhibition at the High Museum of Art in Georgia that showcases a number of landscape works Katz has created. The exhibition's title is a play on Katz's focus on being in the present when he paints. This Is Now displayed several of Katz's oil paintings, such as Blue Umbrella 2 (1972), January 3 (1993), and 10:30 am (2006).
Brand-New & Terrific: Alex Katz in the 1950s
Apr 30th – Aug 6th, 2017
Brand-New & Terrific: Alex Katz in the 1950s is an exhibition that showcases Katz's earlier works that broke the abstract expressionist scene of the art world with his fundamental realism paintings. The exhibition in the Cleveland Museum of Art showcased over 70 of Katz's paintings from his public and private collections of portraits, still lifes, and landscapes.
Ada
Mar 31st – Jun 11th, 2022
Ada is one of Katz's most recent solo exhibitions, which features numerous portrait paintings dedicated to his wife. Katz's wife has been a signature figure in his paintings and this solo exhibition offers insight into several of his works of Ada, including Ada (1957), Ada in Red (1989), and Ada 8 (2017). The exhibition is located at the Gladstone Gallery in Brussels.
---